[vsw id="PDTYcBAaIwQ" source="youtube" width="425″ height="344″ autoplay="no"]
Looking for catering in Dallas West End, Amarillo, Ft.Worth, Arlington, Granbury or Haltom City? Call Hoffbrau Steaks!
Hoffbrau Steaks Catering can provide delicious food for your groups large or small at any location of your choice. All catering orders for 25 or more people should be called in no later than 72 hours in advance.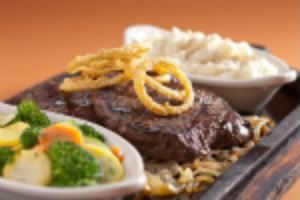 Your guests will enjoy hand cut steaks, Signature Peppered Smoked Sirloin, fresh salads, fall off the bone ribs, seafood or our tasty chicken. You can also customize your catering from our delicious selection of menu items.
All Hoffbrau Steaks Catering menus are served for lunch or dinner, along with our freshly made sides. Give us a call to discuss how we can make your next event a Hoffbrau Event.
Hill Country Texas Style:
Early to-mid 1800's German settlers, who helped develop the Hill Country of South Texas, also recreated their beloved "hof braus"or "beer gardens" where local townspeople, farmers and ranchers gathered to enjoy hearty meals and brewed beverages in a setting that was naturally casual yet humming with conversations and warm, friendly service.
What began as a "hoffbrau" in South Texas truly was the origin of the Texas Hill Country Steakhouse… a tradition that our family has continued since opening Hoffbrau Steaks in 1978.
Enjoy yourselves, our Texas hospitality…and the great steaks and food for which we are known.
Many thanks,
The Fogiels
Family Owned and Operated